StarU│Tutoring On Demand
The StarU app gives students access to free SAT & ACT practice questions and comprehensive strategies.
Improve Your ACT and SAT Scores in 3 Easy Steps!
Step 1: Use the Star Tutors Advanced Score Reports to See How You're Doing
For students who are preparing for the ACT and SAT exams this year, we want to provide you with as many free, self-study resources as we can. We have created advanced score reports for the ACT 74F and B04 test forms as well as the SAT Test 1 and Test 8 test forms, which have been officially released by the College Board (search Google for SAT Test 1 or SAT Test 8 to get the downloadable version of each test). For the ACT 74F test form, the test has been officially released by the ACT, so you can download that test here. We aren't technically allowed to post the ACT B04 test form, but you may or may not be able to find it here (thank you Reddit!). Once you have completed each section of the exam, you can plug your answers into our advanced score reports and see exactly which types of questions you are missing (i.e punctuation on the English section or triangles on the math section). Finally, once you've identified your areas of improvement, you can login to the StarU app and practice those specific question types. All for FREE!
ACT Advanced Score Reports
SAT Advanced Score Reports
Step 2: Improve your strategy
After completing the exam, subscribe to the Star Tutors YouTube channel to watch our TUTORS TAKE THE EXAM IN REAL-TIME! This will help you improve your strategy and timing. Sometimes, watching someone else take the test can help you see things that aren't apparent when you're taking the test.
We are very excited to provide students with FREE ACT and SAT content, lessons, and practice problems. We have taken our Star Tutors Perfect ACT and Perfect SAT Tutorials and have implemented the content and lesson problems into our StarU tutoring app. The content and lesson problems are written and edited by current ACT and SAT tutors, who have over 20,000 hours of experience and who have worked with thousands of students. Using your advanced score report, you can track the precise questions types that you are currently struggling with. Then, you can create a student account within the app to help you practice those specific questions!
The days of spending thousands of dollars for tutoring are over! The StarU app will allow students to call in for tutoring on their time and get help for as long as they need. No prior commitment and no upfront payments! From the App Store or Google Play, search "Star Tutors" and StarU will be the first application available. If you are accessing the application from a desktop or laptop computer you can do so by clicking the StarU Desktop Button!
StarU: Instant Video Tutoring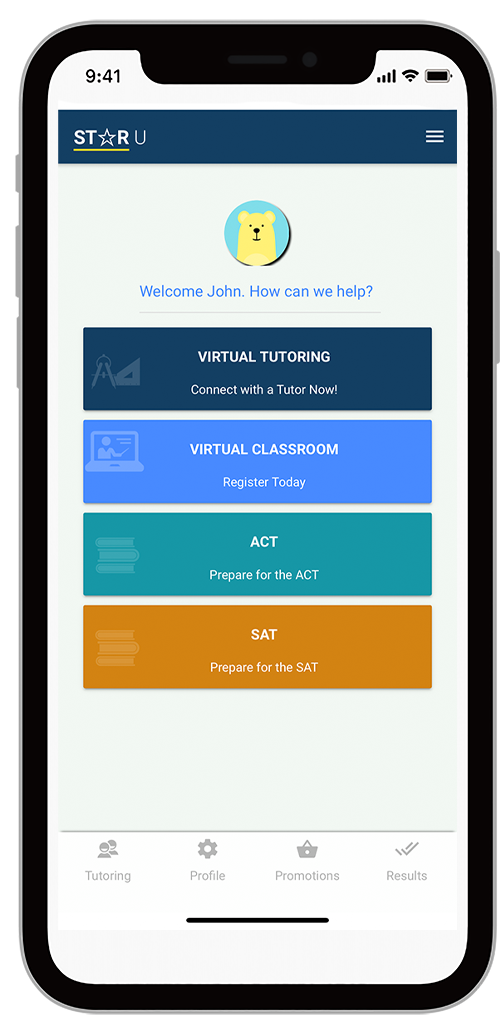 Homework. Test Prep. College Applications.
The StarU Mobile Tutoring App is Here! Star Tutors is proud to announce the launch of our mobile tutoring app, StarU. This is the first application of its kind, allowing students to connect instantaneously via video chat to the best tutors from around the country! Our Star Tutors team has tutored students in different countries around the world and has over 20,000 hours of combined tutoring experience. We know that Star Tutors provides the best tutoring services available, and we are happy that students will now be able to access all of our great tutors by the simple click of a button!
Watch Milo and Chase talk about what makes Star Tutors unique and why the StarU app has been a lifesaver for Milo's busy schedule!